Avalon NJ Dolphin Cruises & Nature Cruises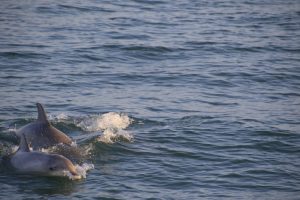 Our nature cruise is timed perfectly to coincide with the active flight and feeding times of our local wildlife. Join our crew on a coastal adventure. Tour around Cedar Island past beautiful waterfront homes as we venture into the Atlantic Ocean to look for dolphins and sea birds. As the sun sets, keep your eye out for the sneaky sea otter or the black crowned night heron. Enjoy family fun, hear a few interesting local facts, and history of the 7 mile Island. We have a large shell and bone collection we share with everyone. This is a fun & exciting trip for families!
Become an honorary skipper of the Miss Avalon. Your chance to Captain the 78 foot fishing yacht and have your picture taken as you take over the controls cruising the Atlantic Ocean searching for dolphins.
Bring your favorite snacks and beverages. Listen to island music. Relax and enjoy the sunset as we cruise around our beautiful island.
Cruising every Tuesday and Thursday Evening June 22nd, to September 7th
Days: Tuesday & Thursday Evenings
Times: 6:30pm – 8:00pm Please arrive about 6pm We do not take reservations
Cost: Adults $25.00 & Kids $20.00